rb May 13, 2016
Wells Cassius, Shetland Pony 104cm, Black
Welcome to Wells Cassius, just arrived from the UK. Black , born 09/05/2002 , 104cm
Available at stud for 2016 – reserve now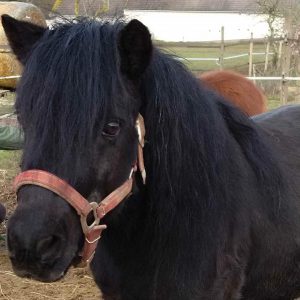 A top quality Shetland Pony breeding stallion from the celebrated Wells Stud near Aberdeen in Scotland, who has produced top class show winning ponies in the UK, including Ceann Charm, who has won many championships including the SPSBS National Award for Best Yearling 2011. An asset to any stud wanting to breed big boned, true to type quality ponies. Cassius is a kind natured, sociable pony, who is very well proportioned with fantastic light movement. He has a kind handsome head and abondant mane and tail. This is his first year breeding at Haras des Pommiers, we are very excited to see his first foals in 2017. Superb pedigree – see here
 
Fee : natural covering (running with mare) ,including livery during 2 heats (1 month). €185 including TAX. Metrite test done in the last month required.

Contact Nicky Beck
+33 (0) 160550712
+33 (0) 603330262
www.facebook.com/HarasdesPommiers
ROBIN DES GIRARDS – Shetland Pony 107cm Grey
Available at stud for 2016 – reserve now
Registered Shetland  Stallion, by Leo of Wilverley (GB) and Idylle des Foltiers. Listed in the French Shetland studbook .
Robin's detailed pedigree is  presented here or here
Graded  'First Class' at the Shetland Stallion Classification at Haras du Pin in March 2009. Robin is a fantastic little sporty pony, with a great temperament, lots of style and super movement. He is 'Standard' size, measuring 107cmand grey in colour. Robin has competed with success in the Shetland Pony breed shows, both at Regional and French National Championships, being well placed each time. In 2012 he was Champion Supreme at Europoney at the breed show and also participated in the ridden presentations at this huge event.
He was broken to ride by my daughter Elyssia and has successfully competed in the French National Stud 'Tests de Loisirs', obtaining "Qualifee" in Regional at National level at Solognpony 2012. This is a course of challenges to assess a ponies suitablility/calm nature  to obtain an independant and secure exterior mount. There are challenges such as a passage through water, a bridge crossing, a log to jump, load and unload into a horse box, pick up the 4 feet, mount and dismount without moving off, road signs to name just a few.
Robin competed at his first jumping competition at the SHN in Fontainebleau in January 2012 with my daughter Rhianna, where they achieved a super clear round, well done to the couple.
Having outgrown riding Robin, our daughter Rhianna now drives him and is qualified to compete at the French National Championships in July at Lamotte Beauvron in Club Poney 1. Robin has participated at Europoney and won the Driving Dual 2 years running. Driven by our friend Angele who is 17, he competed a 3 phase driving competion at the Grand Parquet the weekend of 7/8 May 2016, consisting of dressage, maniability and a 7km marathon with 5 marathon obstacles, he arrived in the time and finished 6th, a very brave effort against big and experienced horses.
Robin has very good fertility and currently has 8 filly foals, April Seven 2010 (by Kiss Me), Butterfly des Pommiers 2011, Crumble des Pommiers 2012, Daisy des Pommiers 2013 by our Mini des Pommiers (currently in foal to Robin and due in July), 1 colt foal Delight des Pommiers 2013 and 2 filly foals Emperess des Pommiers 2014 and Fairy des Pommiers 2015 with Light Wing de Cottard, 1 filly foal Fleur des Pommiers with Headowork Sandra 2015 and 2 filly foals with Hoora.  The foals are very sweet natured,  well proportioned in the breed standard, sporty and love children. They are well handled, vaccinated, wormed, microchipped and papers and used to the blacksmith.
Fee : natural covering (running with mare) ,including livery during 2 heats (1 month). €185 including TAX. Metrite test done in the last month required.

Robin Equita'Lyon 2013 – winner in the sulky racing
Contact Nicky Beck
+33 (0) 160550712
+33 (0) 603330262
nicky@harasdespommiers.com
www.facebook.com/HarasdesPommiers